Who We Are
I have been an art restorer since 1986.  I restore ceramics, wood, plaster, paper mache, stone, sheet metal and paintings.
I began restoring art at the Sergio Bustamante Gallery in West Hollywood and I have also worked at the Sergio Bustamante  studios in Tlaquepaque, Guadalajara, Mexico.
I have restored pieces for the One World Gallery in Las Vegas and Maui, for Sergio Bustamante Galleries in Los Angeles, San Francisco, San Diego, La Jolla and Boca Raton, and for private parties who have sent me their damaged ceramic pieces from Colorado, Houston, Arizona, New York City and Miami.
Some of my clients have included Nick Nolte, Liza Minelli and Warner Brothers Studios.
I also specialize in restoring Amphora pottery.  I have restored many Amphora pieces in collaboration with the famous Amphora dealer, John Cobabe.  Photographs of many of the pieces that I restored are featured in the books
Monsters and Maidens  Amphora Pottery of the Art Nouveau Era, by Byron Vreeland, Fledermaus Press, Los Angeles, Copyright 2003,
and
Ceramics from the House of Amphora  1890–1915, by Richard L Scott, published by Richard L. Scott, Sidney, Ohio, Copyright 2004.
With my aesthetic sensibilities, my attention to detail, and my passion for art, you will be very satisfied with my restoration of your art pieces.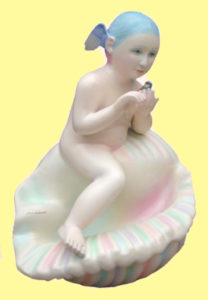 Sergio Bustamante Sculpture that I restored.